Written by Al Beaton | 12 October 2010

Updated: Ty has posted his thoughts on the day over at The Lions in Winter, and Zac has as well at SideLion Report. It was great meeting both of them!
And if someone ever says to me "pics, or it didn't happen," I have a pic.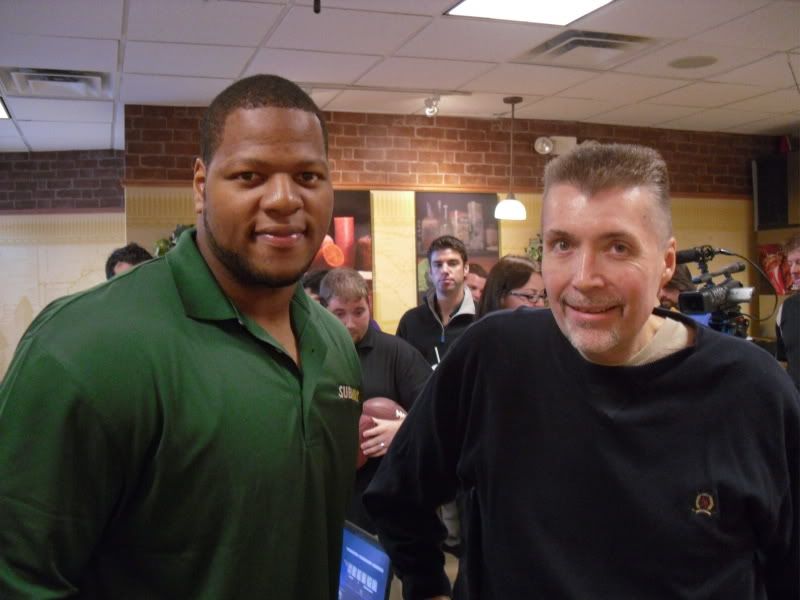 Suh is a big, big man, and no, I wasn't scared...well, maybe a little.
I was invited to a Subway in downtown Detroit this morning to cover the Lions' Ndamukong Suh making a breakfast sandwich, meeting with the local media and a few Lions bloggers, and talking a little trash with Giants defensive end Justin Tuck via Skype.
This was my first time covering a press event as something even remotely like a member of the media, so I wasn't sure what to expect. I learned there a lot of "hurry up and wait" involved.  It was also confirmed you can never quite trust technology, nor New York City traffic.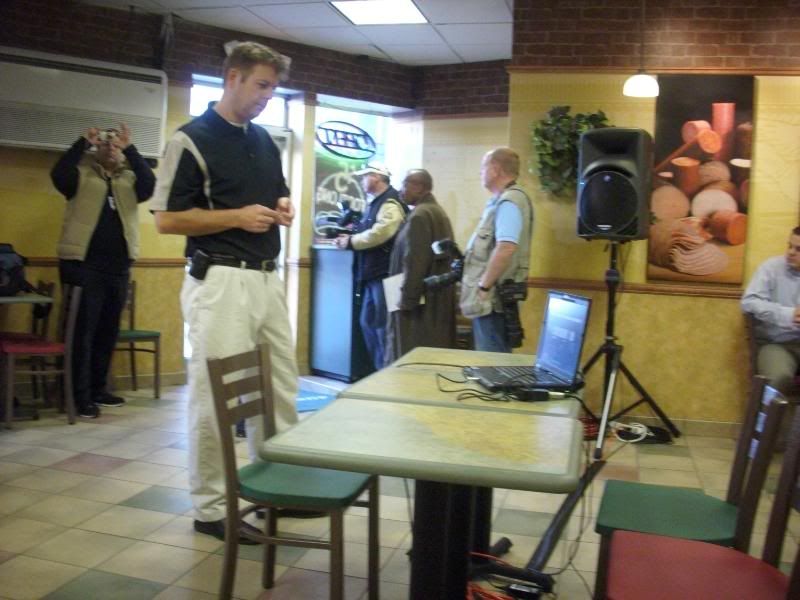 Waiting for Godot Suh!
The event was scheduled to start at 8:45 AM, but thanks to a fender-bender on I-75 south, I arrived at the presser around 8:50. No worries, Suh had yet to arrive, and we were soon to find out Tuck was caught in some mean ass NYC traffic.
When Ndamukong Suh rolled in with his sister and PR handlers around 9 AM, he was taken behind the counter. He described to us his favorite sub, and displayed mad skills making a sandwich for FOX 2's Al Allen. Allen was the most recognizable media person in attendance, and had a camera crew in tow.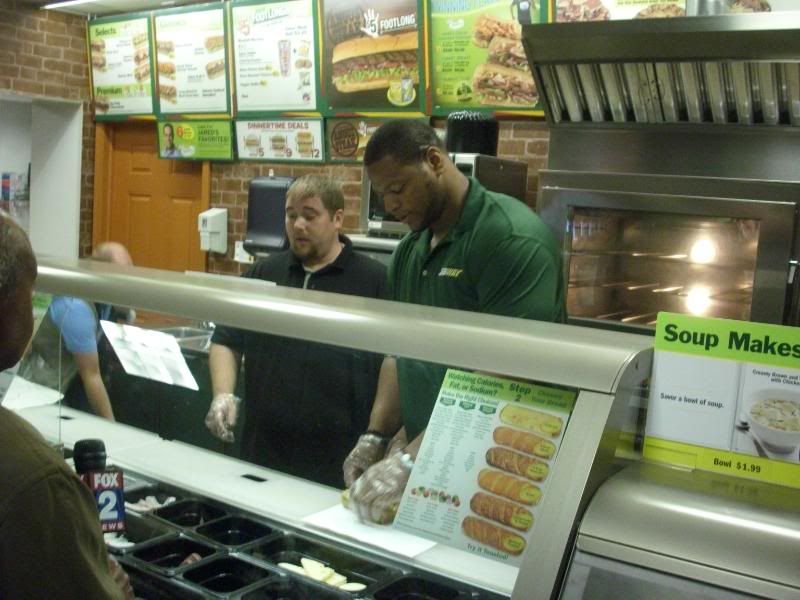 Ndamukong Suh making FOX 2's Al Allen a sammich!
It was as exciting as it sounds...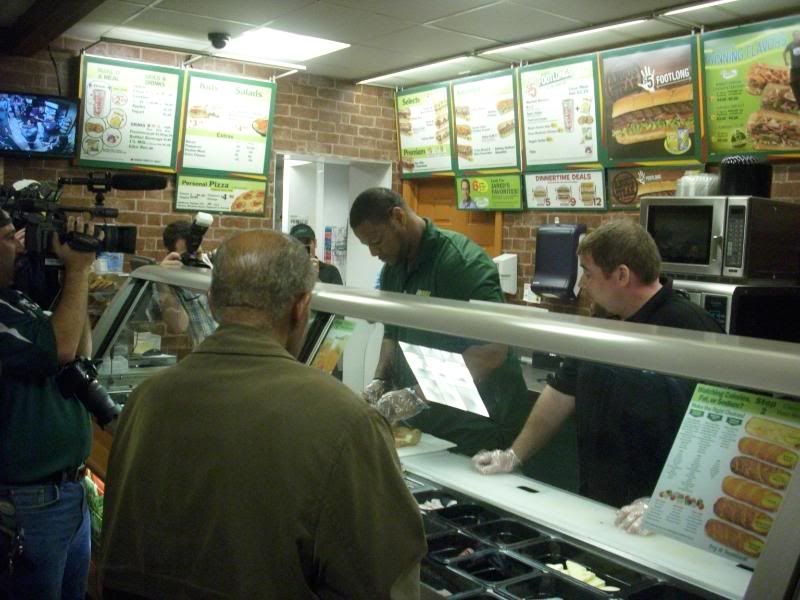 "I think I've mastered it."
"You want regular eggs or egg whites?"
As I mingled, I ran into fellow Lions bloggers Zac Snyder of SideLion Report and Ty Schalter of The Lions in Winter (who was tweeting like a fiend). After the fact, I learned Phil Zaroo of Mlive and a friend who was covering the Suh appearance for the gang at Detroit4Lyfe were in the house as well.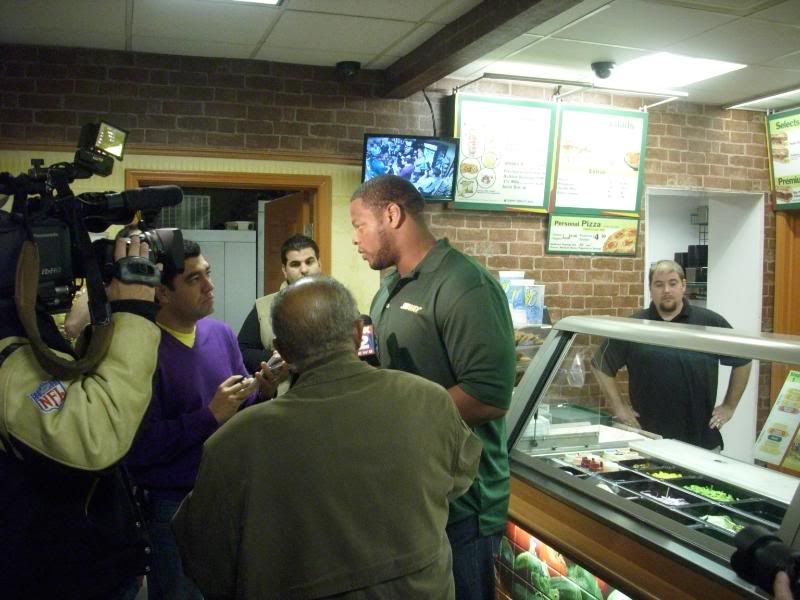 Suh being grilled about his mad sub making skillz!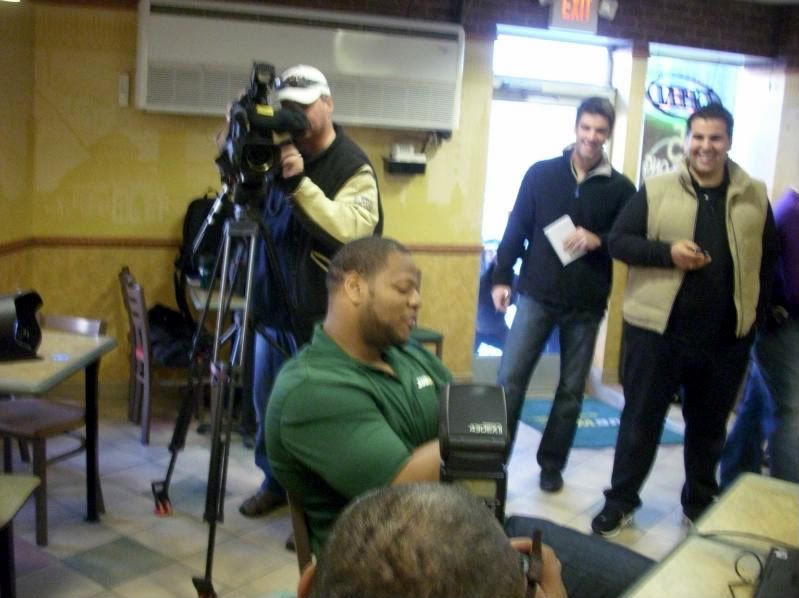 "Yes, I've heard the "A Boy Named Sue" reference before..."
I learned a few things about the Lions' star rookie while spending my morning in a Subway.
Ndamukong goes by just plain "Suh."
He's heard his name compared to the Johnny Cash song "A Boy Named Sue" more times than he'd care to mention.
Suh makes a mean sub.
The Lions have added an offensive package for him.
He thinks the Lions can win with either Matt Stafford or Shaun Hill.

Suh is has enjoyed his time in the city of Detroit and suburbs.
He's open to local restaurant suggestions.

He likes to EAT. A LOT.
Suh really is a nice guy, treating us all well...even we non-media guys...on his day off.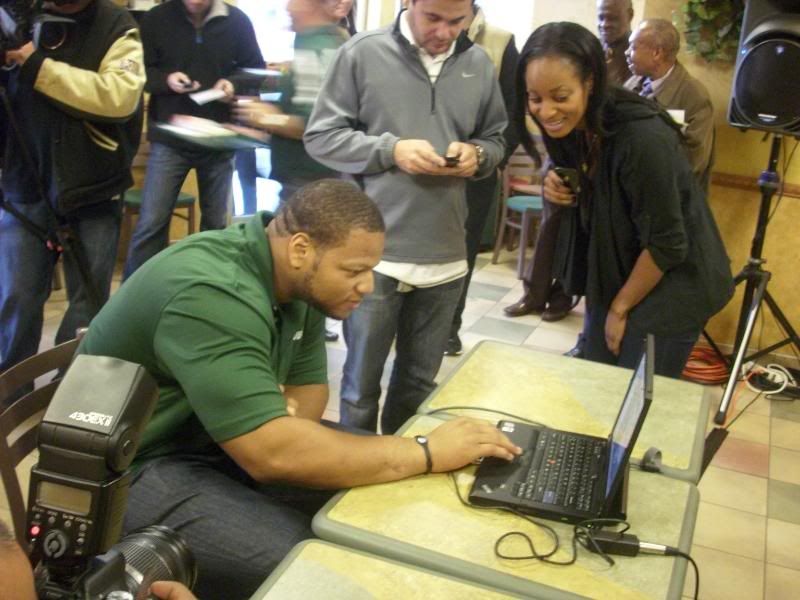 Suh Skyping with the assembled New York City media, who were also at a Subway.
A Skype connection was set up for Suh to chat with Justin Tuck, but we found out he was caught in traffic on the way to his own subway appearance. Tuck was "10 blocks away"  for quite some time...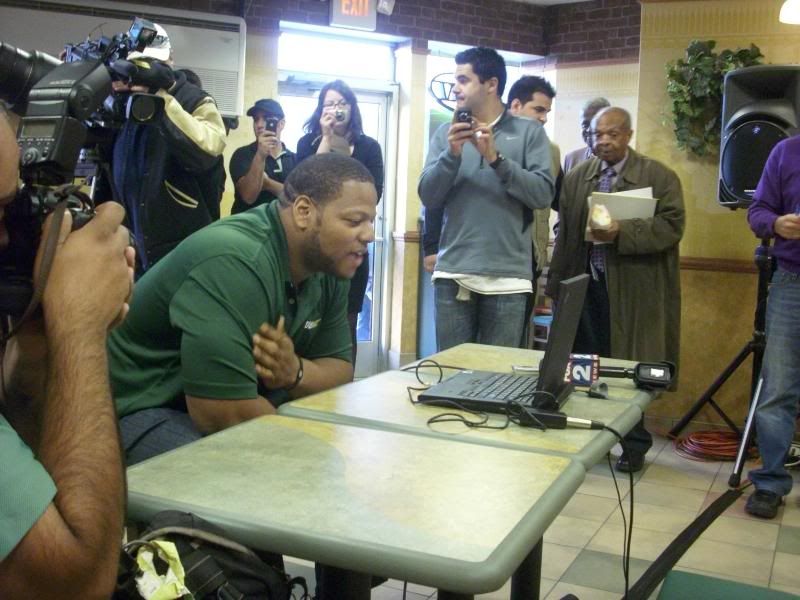 Waiting for Godot Tuck. Still "10 blocks away."
The clock was ticking, as Suh was scheduled to leave soon in order to do a live interview with ESPN. Once  Tuck arrived at the NYC Subway, he still had to go through the same shtick as Suh, making a sandwich and chatting up the local guys.
After killing time by talking everyone in attendance both in Detroit and NYC, signing a few autographs and taking pictures with bloggers (the batteries in my camera died right when I was talking with Suh, so Zac took a couple of pics with his camera, which he's going to forward. Thanks!) Suh had to bolt for his ESPN bit.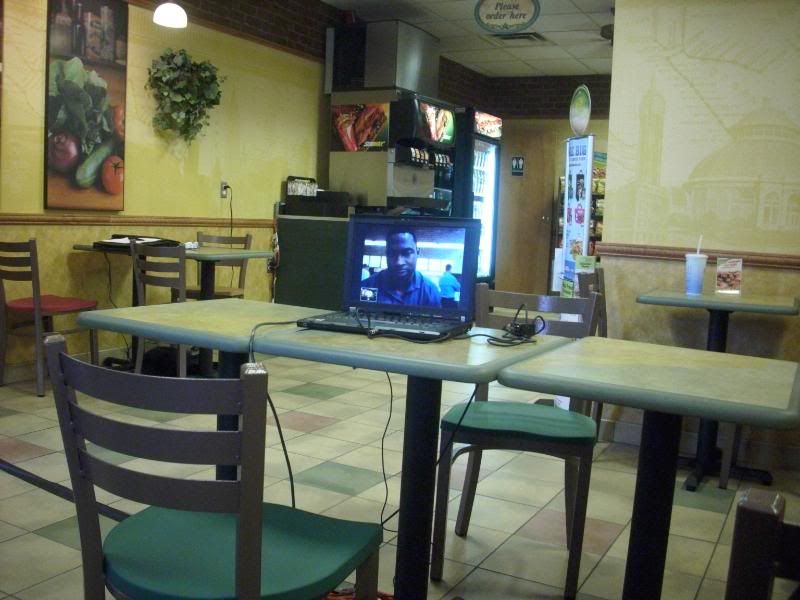 Tuck asks, "Where's Suh?"
Once Tuck sat down, he chatted with us over Skype. On Twitter, Phil Zaroo opined this isn't old school journalism...
We're sitting in Subway filming a talking computer. I'm quite certain Howard Cosell just did backflip in his grave.
I have 20 minutes of video of Tuck's talking head on a 15" Thinkpad. I think I'll need to edit it down somewhat...
A few things Tuck said stood out.
Tom Coughlin tried to give him a behind the back low-five after a big play.
Tuck could out eat Suh in a sub eating contest, even if it meant being sick for two weeks afterward.
Tuck went out on a limb, and predicted "the Lions would show up around noon Sunday," "either the Lions or Giants would kick off" and "there won't be a tie."
You could tell Tuck had done this sort of thing before, as he was quite gregarious, getting us all laughing.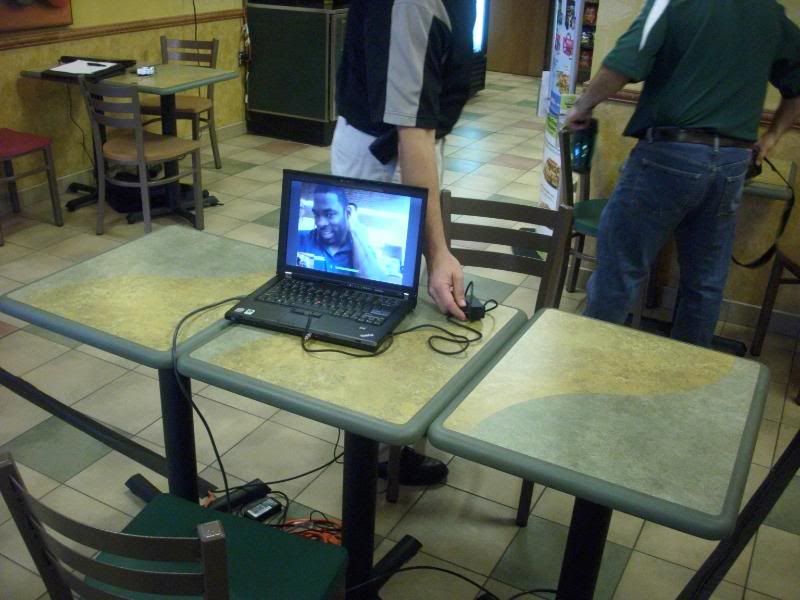 "Prediction? Either the Giants or Lions will win by at least one point!"
After Tuck had his time with us in the D, the event wrapped up. So I got lots of pics, a ton of video, and a free steak, egg and cheese sub for my two hours (I highly recommend the sub). The event was an eye opening experience for me , and I learned reporters have a tougher job than any of us realize.
I was taking video of both Suh and Tuck, but it needs to be edited down quite a bit. I hope to have it up in the next day or two, depending on my editing skills, or lack thereof, and getting it uploaded to YouTube.
You can see all the thrilling video in part two of "At Subway with Suh," coming to this blog soon! For more pics (and professional ones at that), the Freep has a gallery up of Suh's Subway appearance.
And I have to thank my girlfriend Kelly, who took the morning off of work to act as my Girl Friday and chauffeur.