Written by Al Beaton | 14 December 2011

The Detroit media is up in arms over Ndamukong Suh's refusal to go in-depth answering questions about his suspension and car accident. They were expecting an apology, and didn't get one. They were expecting a comment on the Portland wreck, and didn't get one. They were expecting a mea culpa, and didn't get one.
Paula Pasche of The Oakland Press posted a snippet of Suh's reluctance to talk,along with video.
Q: Any thoughts about the whole incident and how things unfolded?

Suh: "It is what it is. Like I said I'm looking forward to playing Oakland and getting back on the field."

Q: What did you learn?

Suh: "Like I said I'm looking forward to getting back on the football field.''

Q: What was it like watching your team play without you?

Suh: "It was a situation that I had to deal with, I dealt with in the best manner I know. I look forward to playing against Oakland and joining my team."
Suh then made his weekly appearance on WXYT's Hacks Yelling at Each Other Show Valenti and Foster show. It didn't go well. Here's the pertinent quotes from the cringe worthy interview, via WXYT's Twitter feed:
Suh on WXYT: "You are not getting a lot out of me because of the questions you are asking. I'm looking forward to playing football."
Suh: "Its not the Suh Show". Valenti: "But that is what the last 2 weeks have been". Suh: "Not because I made it that way"
Valenti and Foster to Suh: "Did you apologize to your teammates?" Suh: "Things that are in-house, stay in-house".
Valenti and Foster to Suh: "Did you talk to your teammates"? Suh: "Whether or not I did.. that stays in-house".
Suh, tired of the questioning about the suspension and accident, finally hung up.
In summation, Suh spent the day dodging media questions and hung up on on the hack hosts on WXYT. Not a bad afternoon's work. In other words, despite Suh's insistence he's moved on from the incidents of the last two weeks and everyone else should as well, Detroit ended up with a metric shit-ton of media generated DRAMA!
Of course Suh would have been better served if he had issued an apology that meant nothing and wasn't sincere. Apparently that's what everyone wants. A polite sound bite.
I don't blame Suh one bit for clamming up, especially about the Portland incident. Everyone is forgetting there could be expensive legal issues involved with the car wreck. Suh's passengers were injured, lawsuits could be in the making, so there is no way should he talk about it. Even Lionel Hutz would agree...even if Jerry Sandusky's lawyers wouldn't.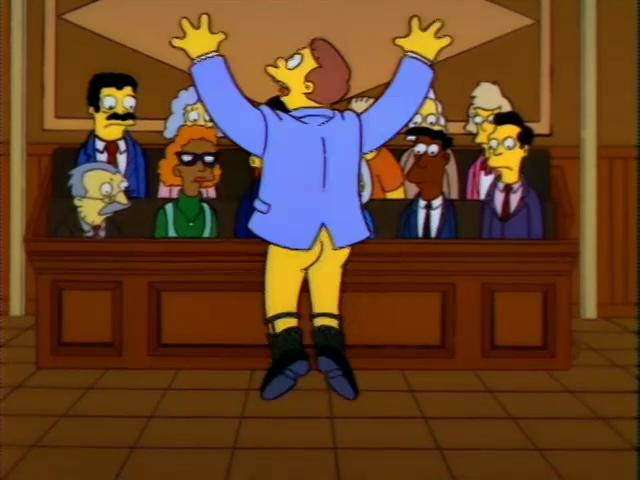 If the law talkin' guy doesn't think Suh should talk...
For a player whose image has taken a large hit, rehabbing it doesn't seem to be a priority for Suh. In fact, I don't think he cares about his reputation one way or the other.
One thing has become obvious over the last few weeks. Ndamukong Suh has an extremely prickly personality, and consistently refuses to talk about his personal life. Being reticent to open up may cost him in the long run when it comes to endorsements or becoming the face of the Lions and NFL. But it's possible he doesn't care for the adulation and attention. Going by today's events, I'm convinced of it.
But in the end, it's all about what happens on the football field, not off of it. Suh hanging up on a radio station and not giving the media what they wanted to hear will all be forgotten if he plays well. If the Lions beat the Raiders, it'll be hard to find a fan who is upset Suh didn't apologize.
Fans have very short memories. Want proof? Look at the latest Pro Bowl balloting...and see who leads all defensive tackles.